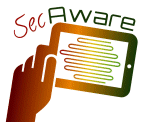 IsecT Limited (security in IT) is an independent consultancy based in New Zealand, specialising in information risk and security management.
​
We have a keen interest in the human aspects as much as the technology, with a strong bias towards business. We help clients protect and exploit information, enabling the business to do things that would otherwise be too risky.
Our core competences include:
Information risk and IT/cyber risk management

Information security

and

cybersecurity management

Preparing security strategies and plans

plus business cases and project proposals

Writing and customising security policies, procedures

and

technical

documentation

Security metrics

- helping you figure out what to measure, how, when and why

Security awareness and training - creative, motivational content

Designing and implementing ISO27k Information Security Management Systems

Governance, Risk and Compliance, as a whole

IT and ISMS audits, management reviews, gap analyses and supplier assessments

Benchmarking and maturity scoring of information risk and security

Interim management of information security, cybersecurity or IT audit teams

Mentoring/coaching for CISOs, Information Security Managers and the like

On-demand remote support and guidance as and when you need it
​​
Our clients are worldwide, of all sizes and industry sectors. We've supplied government and commercial customers, not-for-profits and charities, consultancies and professional services companies, cloud-based and bricks-and-mortar businesses, greenfield start-ups and mature multinationals ...
​
SecAware builds on our experience and expertise. We know the subject inside out. It's our passion.
​
Read more about IsecT CEO Gary Hinson on LinkeDin or Google. Gary has been doing this stuff since the 1980's. He set up IsecT more than 20 years ago, originally in the UK before emigrating to NZ in 2005.
​
Track the SecAware blog to see what has caught our beady eyes lately. Join the ISO27k Forum for daily updates and advice from the active global community of nearly 5,000 professionals.
​
​