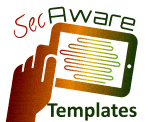 You are busy running the show, juggling priorities and trying to keep everyone happy.
​
Under pressure to comply with GDPR, HIPAA, PCI-DSS, ISO27k, SP800-53 and more, you're concerned about cyber incidents, especially those that haven't even been detected and reported yet. Management demands action: they're not exactly clear what that might be, but you'd better be sharp about it!
You're looking for an approach that is both effective and pragmatic, given finite resources and competing priorities.
​
Your fellow workers (staff and management) are busy too, focused on anything but information risk and cybersecurity it seems. Lacking knowledge and attention, they are vulnerable to phishing, Business Email Compromise, ransomware and a million other threats. Security to them is largely an annoyance, an obstacle, a pain in the rear. They have More Important Things To Do.
​
To make progress, you need to catch their eyes and change their attitudes. Aside from simply informing your colleagues about information security threats and policies, the challenge is to get people to think and behave more securely, avoiding risky decisions and actions.
The first step is to convince your managers that a 'management system' or 'governance framework' for information risk and security management is more than just good practice. It gives management the information and levers necessary to direct, guide and monitor information security, supporting and enabling the achievement of business objectives relating to the protection and legitimate exploitation of information.
​
We help you succeed. Find out about us ... or cut to the chase and shop for the materials to build your ISO/IEC 27001 Information Security Management System including sensible policies and motivational awareness content.
​
We'll get you up and running in no time with top-quality materials at unbeatable prices.
​
​