Information security policies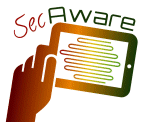 A comprehensive, professionally-authored suite of concise "topic-specific" information security policy templates - editable MS Word documents for you to adapt and adopt.

No more staring blankly at an empty page, wondering what to say ... and how to put it. Save yourself weeks of research, thinking and writing,
Our templates cover a deliberately broad range of information risk and security topics, not just the obvious ones. Buy individual templates to plug small policy gaps,
or invest in the entire policy suite, an impressive integrated and
cross-referenced set covering all bases for a fraction of the price.