Information security awareness & training modules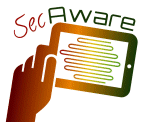 Professionally researched and prepared awareness and training materials
covering a broad range of information risk, security and related topics.
​
Each SecAware 'module' contains seminar slide decks, posters, competitions, tests, briefings, checklists and more, a rich variety of top-quality materials designed to appeal to staff, managers and specialists.
​
These are MS Office files for you to edit, customize and [legitimately!] exploit.