SecAware online shop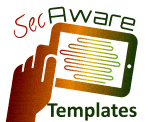 Materials for your ISO/IEC 27001 Information Security Management System including a suite of topic-specific security policies and more.
​
Search or sort the product catalogue below using the functions to the right.
Visit specific departments using the Shop menu drop-downs above.
While browsing, click Prev or Next to shimmy sideways along the shelf.
​
Prices are US dollars (excluding GST for Kiwi customers).