ISO/IEC 27001 templates & consulting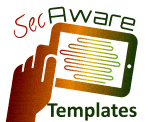 High-quality customisable documentation templates for your ISO 27001 Information Security Management System.
ISO/IEC 27001 insists upon just a few specific items of 'documented information' relating to the ISMS such as 'a scope' and 'an information security policy': every certified organisation requires these. Beyond the standard's succinct descriptions, we have to figure out the details of exactly what form the essential documentation should take and what it should contain. ISMS Launchpad gives you a head start with conventional, generic templates for all the mandatory materials, ready for you to customise according to your organisation, your industry, your information risks ...
ISMS Take-off provides a substantial stack of additional discretionary materials emphasising information risk and security management. How will your ISMS be governed and structured? Why should your executives and managers support the ISMS, and what will it mean for them? How will the ISMS enable the achievement of strategic business objectives, and how can you demonstrate that? Adapting the SecAware templates is quicker and easier than generating things from scratch. Take advantage of our decades of experience working with hundreds of organisations to inform and engage your management.
​
ISMS Orbit supports the professional specialists designing, building and operating the ISMS routinely. These are more technical materials focused on information security and privacy controls such as patching, cloud security and cryptography. There are checklists to help you identify all your information assets, procedures to identify, evaluate and treat the risks, and suggested metrics with which to measure and drive the ISMS forward.
​
ISMS Mission is a mega-pack containing all the Launchpad, Take-off and Orbit materials plus the complete suite of SecAware information security policy templates - over 100 Mb of top-quality content at a heavily discounted price.
Finally, let us help you design and construct your ISMS. Call on us for strategy development, ISMS gap analyses, management reviews and internal audits. We offer pragmatic tips - shortcuts worth taking and pitfalls to avoid - plus mentoring/coaching and on-call guidance, assurance and reassurance.